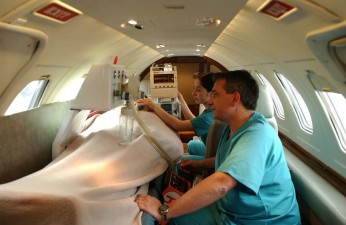 Horizon Air Ambulance is a worldwide leader in Air Medical Transportation. For over 25 years we have been safely transporting our patients throughout the world. The long term experience of our staff makes it easy and quick for you to arrange for the best flight, cost and service when you need to bring a patient to another location.
Contact Us
Air Ambulance
Medical Equipment
Horizon Air Ambulance Advanced Life Support "ALS" state of the art equipment on board many of our flights regarding medical transport. Before each Air Ambulance flight commences, all necessary equipment and supplies are checked for complete operational standards and existence. The chief nurse of operations personally observes each and every aspect of the preparation of the equipment. Rest assure that if you are bringing a patient anywhere in the world your family member or friend is under the best possible care. The equipment on board for general air medical flights but not limited too is:
Cardiac Monitors
Defibrillators
IV pumps & solutions
Infusion Pump
Oxygen
Oxygen supplies, regulators and gauges
Pulse Oximeter
Portable suction units
Intubation equipment
Respirator / Ventilator
Oropharyngeal Airways
Hand operated bag-valve
Mask resuscitators
Blood pressure cuffs
Drug box
FAA approved stretcher
Air Ambulance
Contact Us
Worldwide Evacuations
Since 1995 Horizon Air Ambulance has transported over 10,000 patients worldwide with a 100% safety record. We realize that when a patient needs to be transported it weighs heavily on the family both mentally and financially. We handle the transport every step of the way so you comfort your loved one with the least amount of distraction.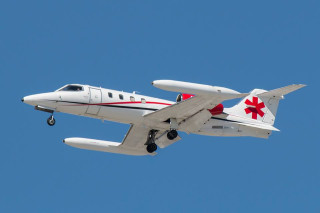 Air Ambulance
Medical Staff
Medical Staff- While transporting on an Air Ambulance it is of the utmost importance that the quality of medical care is of the highest standard in the industry. For this reason we supply the availability of:
Advanced Life support Paramedics
Cardiologists
Neurologists
Emergency Room Physicians
ICU-CCU Registered Nursing
Respiratory Therapists
Pediatric Nurses
Emergency Medical Technicians (EMT)
All of the above are highly trained, certified, and holding years of experience in their field of medicine. They are also familiar with the everyday transport of Air Ambulance patients worldwide. At any time feel free to ask us about the qualifications of the crew that is handling yourself, your family or your patient needing our assistance.
Contact Us
Multiple Patient Aircraft
Dornier 328 Jet
- the Dornier Jet can handle multiple patients. Usually 4 ICU and possibly 8 sit down patients at the same time. The aircraft has limited range of about 1500 nautical miles so is not used for long range evacuations.
Contact Us